Of all the hymns I would sing at St. Mary's for the Feast of St. Joseph, Dear Guardian of Mary was my favorite. The choir and congregation also liked it. Father Frederick William Faber (1814-1863) wrote the words of this beautiful hymn, and it first appeared in his hymnal JESUS AND MARY published in 1849. Fr. Faber began writing hymns in 1848 and wrote his first two hymns while on a retreat in Yorkshire. Fr. Faber was a convert to Catholicism and joined the church in 1846. He wrote more than ninety hymns, authored several books, and was declared Doctor of Divinity in the Catholic Church.
In my survey of hymns to St. Joseph which consisted of over one-hundred Catholic public domain hymnals from the late 19th and early 20th century period, I found over sixteen different melodies, four of these melodies were widely used. You can learn more about these melodies in A COLLECTION OF CATHOLIC DEVOTIONAL HYMNS TO ST. JOSEPH, 2021.
Brother Bonitus, FSC (Brothers of the Christian Schools) composed the most widely used melody found in the hymnals I surveyed. He also composed many musical compositions and hymns. Many of Brother Bonitus compositions can be found in the CATHOLIC YOUTH'S HYMN BOOK, 1871 and DE LA SALLE HYMNAL, 1913.
The CATHOLIC YOUTH'S HYMN BOOK was compiled in 1871 by Brother Luke of Mary, FSC (Nicolas Lauer, 1838-1900), assisted by Brother Bonitus, and Brother Bardomian, FCS (George Labrecque, 1836-1901).
The DE LA SALLE HYMNAL was compiled in 1910 by Brothers Chrysostom John, FCS (Joseph J. Conlan, 1863-1917), Camillus Joseph, FSC (Charles J. Merkling, 1852-1921), Theodorus of Milan and Attalus Jerome.
The attributions of Bn., Bro. B., B. Bs, and Bonitus, are all his. Providence led me to an article in the May issue of the DE LA SALLE MONTHY published in May of 1872. The article was an obituary notice for Brother Bonitus. Here is a brief account from that article.
Brother Bonitus was born Jean, or possibly John Schiesser in 1819 and educated in Germany devoting most of his studies to all branches of music. He arrived in America in 1845 and took the post of organist and teacher at St. James Church, Baltimore. He had an enterprising disposition and was engaged in various pursuits. In the early 1850s he traveled to Cincinnati, Ohio to further some of his projects. After spending some time there, he traveled to Detroit where he called to see Father Schaeffler, who was then the Superior of the Redemptorists in that city and a close friend. Fr. Schaeffler conceived the idea of encouraging his friend to employ his many talents to a more worthy cause than in service of the world.
This was not an easy task but finally after several attempts and a spiritual retreat, in November of 1852, John Schiesser entered the Novitiate of the Christian Brothers of Montreal. He taught in the schools run by the Brothers of Montreal for about four years. He was then sent to Marseilles, France to teach English and remained there for fourteen years and directed music at the large college in that city which was run by the Brothers. He returned to America by 1870 and was employed in the music department of Manhattan College. After Christmas of that year he was transferred to the New York novitiate then assigned to Classon Point near the village of Westchester. He remained there for about a year as Inspector of the nearby Protectory schools when he was appointed Director of a small community in West Troy, New York. He quickly won the kind esteem and affection of the students, teachers, parents, and anyone who came to know him. On the morning of April 12, 1872, Brother Bonitus died suddenly from a stroke.
Reflection
The verses of the hymn remind me of St. Joseph's role in protecting and providing for Jesus and Mary. I am reminded of the flight to Egypt and the sands that the Holy Family saw as they traveled, Bleak sands are all round us, no home can we see. Consider the desert sands that surround you in your own life, how bleak they might be, how weary and wild, especially today. St. Joseph was chosen by God, as father and guide, to Jesus and Mary, who felt safe at his side. Turn to St. Joseph and ask for his guidance and protection. Many souls have come to Christ through the intercession of St. Joseph, and many have found comfort in the verses of this hymn.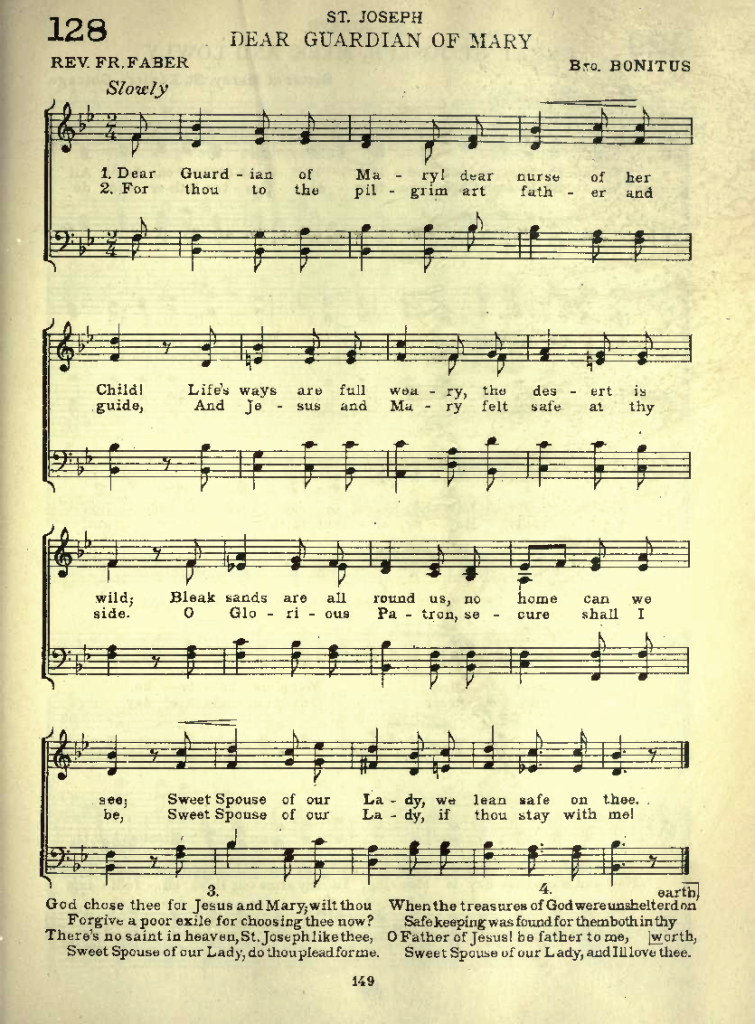 I want to thank Peter Meggison, producer of The Devotional Hymns Project for granting permission to link to a newly commissioned recording by the Singers from St. Joseph Cathedral, Manchester, New Hampshire. Click on the link to hear this beautiful recording. Dear Guardian of Mary
I want to thank Brother Joseph L. Grabenstein, FSC, Archivist, Legacy Baltimore District, Co-Archivist, District of Eastern North America, De La Salle Christian Brothers who identified Brother Bonitus for me after I provided him with my research.